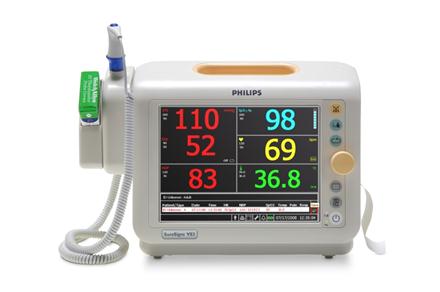 SureSigns VS3 Monitor
Model Number: 863071, 863072, 863073, 863074
The Philips Suresign VS3 Monitor has a 8.4 inch color screen. This monitor utilizes a trim knob for navigation. The unit receives patient data from its internal parameter block and displays the parameters on the screen. The unit is not capable of reading ECG. The unit can have a built in recorder, oral temperature, and battery power options.
The Philips SureSign VS3 is a spot check patient monitor that is small, light, and compact. Navigation is done through a trim knob or with the smart buttons on the side. This unit can come with oral temperature and a local recorder. It has SPO2 and NIBP as internal parameters. Very simple and easy to use interface. It utilizes a very simple and easy to use interface. Common issues include NIBP, oral temperature, and power issues.
NIBP Problem

Unit won't power up

Unit won't boot

Display issue

Parameter malfunction

External Temp malfunction
Everything that comes out of our shop has been cleaned, serviced, and is ready for use.
Give us a call: