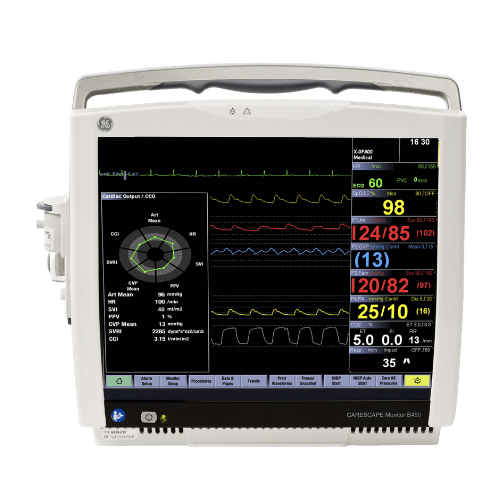 GE Criticare Patient Monitor-B450
Model Number: B450
The GE B450 Monitor has a 12 inch color display. This monitor has touch screen capabilities for navigation. Patient data comes from an external parameter module and unit has built in module rack. Unit also has a battery option.
The GE Carescape B450 provides powerful monitoring in a highly compact, and highly transportable unit. It uses a touch screen interface. It's capable of talking to both Carescape and S/5 networks. This monitor can have built in recorder and wireless network capabilities. Unit uses an external module for patient parameters. It has a single slot module rack built in as well. This unit is used mainly for transport situations. This makes it prone to physical damage on the screen and case. We also see the unit fail to boot properly.
Dead

Won't power on

Software boot error

Recorder malfunction

Damaged screen

Damaged PDM connector pins

Defective Internal Module Rack
Everything that comes out of our shop has been cleaned, serviced, and is ready for use.
Give us a call: