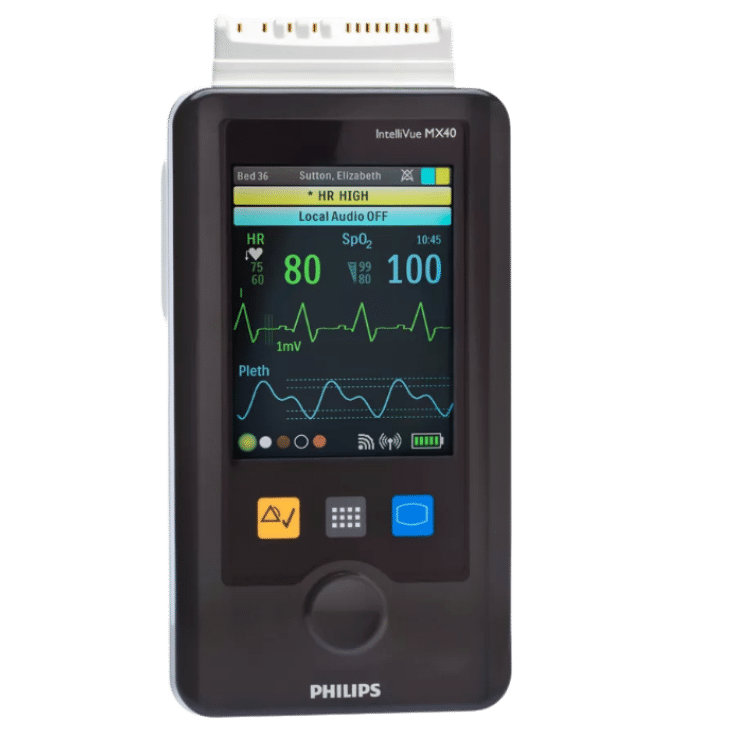 Philips MX40 Telemetry Pack 1.4
Model Number: 865350
The Philips MX40 865350 telemetry unit uses Philips 1.4 gig network. It comes in the following options: Non SPO2(S01), SPO2(S02), and SPO2 Upgradable(S03). The unit comes with a color display and touch screen interface used for navigation.
The Philips MX40 Telemetry series brings together a lightweight telemetry transmitter and patient monitor. You can now view the patient parameters directly on the unit with the built in color touch screen. You can customize the configuration on the device and set sounds and other parameters directly. Depending on the MX series telemetry, it can work with Philips 1.4, 2.4, and WLAN networks. You can either use AA batteries or rechargeable Lithium Ion battery pack. The most common repairs include damaged lead pins, damaged case, and power issues.
Troubleshooting help:
MX40 On and making sound but screen is blank, Unit turns screen off to save battery. Hold Main Screen button (BLUE) and Multi-function button (Dark circle button) for a few seconds. A lead issue, Check gold pins for corrosion damage or damaged pin. Check for signs of liquid damage in battery tray area and under battery tray or Lithium Ion Battery . Never have a lead set in the unit while trying to assign a label. You will get an error message at the central every time.
Helpful Files:
Lead pin damage

Power Issue

Damaged screen

Liquid damage

Damaged case

Speaker issues
Everything that comes out of our shop has been cleaned, serviced, and is ready for use.
Give us a call: