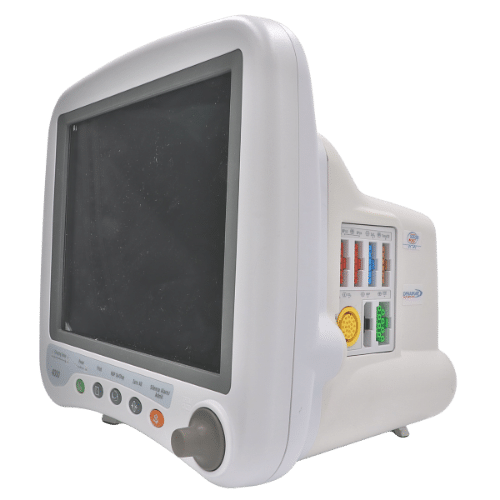 Dash 4000 - GE Dash 4000 Patient Monitor
Model Number: Dash 4000
The GE Dash 4000 Monitor has a 10.4 inch color display. This monitor has a trim knob used for navigation. The unit receives patient data from its internal parameter block and displays the parameters on the screen. It also has available options for battery power, wireless, and a built in recorder.
The GE Dash 4000 provides powerful monitoring in a highly compact, rugged, and highly transportable unit. The Dash 4000 has same body as Dash 3000 with a bigger 10.4 inch screen. This gives the Dash 4000 the capability of displaying more waves, but at some cost to portability. The unit uses a trim knob for the main interface control. The Dash 4000 has a built in DAS assembly which has all patient parameters. This monitor can have built in recorder and wireless network capabilities. This unit is used for transport making it prone to physical damage on screen and case. Other common issues we see are parameter issues, no display, and power cycling issues.
Dead

Won't power on

Intermittent power cycle

Recorder malfunction

Damaged screen

Damaged case

DAS Error

Defective Parameter

Damaged Parameter connector
Everything that comes out of our shop has been cleaned, serviced, and is ready for use.
Give us a call: